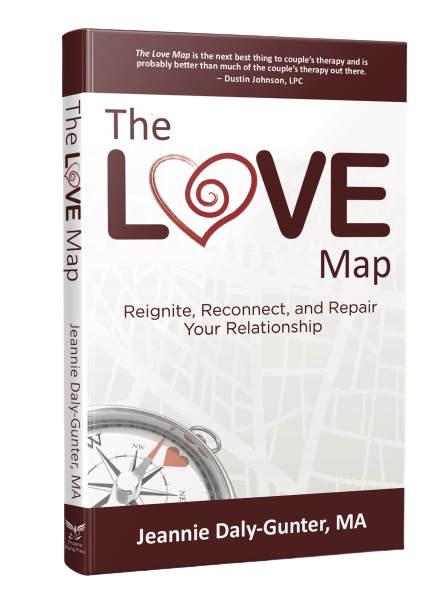 The Love Map Book
"The Love Map is the next best thing to couples therapy and is probably better than much of the couples therapy out there." – Dustin Johnson, LPC
If you aren't growing together in your relationship, you are likely growing apart. The Love Map: Reignite, Reconnect and Repair Your Relationship, gives couples a blueprint to help you navigate the inevitable ups and downs of love. This book is a practical guide, an engaging story, and a workbook. The Love Map has been recommended by therapists and those in the personal growth industry as a powerful resource for couples wanting to deepen their connection and create a more conscious and meaningful relationship.
The Love Map Video Workshop
For couples who want a transformative couples workshop in the privacy of your own home, we created The Love Map Video Workshop. In this 7-part video training, Mark and Jeannie take you through powerful communication tools that help you move away from conflict and "The Pain Map," and towards greater connection on "The Love Map." Jeannie and Mark demonstrate all the tools so you can follow along and do the exercises with them. This is like having your own private workshop. We also do a deeper dive into Attachment Styles, and present you the same powerful attachment style experiential exercises that we do in our live workshops. You will gain greater understanding, connection, and start to heal old patterns together.